In the Summer of 2021, DK Security took its "Mobile Command Unit" company RV to farmers markets and community events in West Michigan to meet, interview and hire hourly workers. By Summer's end, the 2021 Mobile Career Fair brought our recruiting team to seven events in four cities, building valuable relationships with job applicants and supporting community organizations at the same time.
---
Confirming the Concept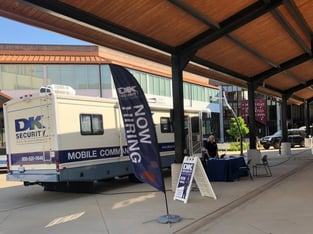 The Mobile Career Fair concept began in Battle Creek, MI, with the immediate goal of filling 28 local positions and 100 jobs across West Michigan. The Battle Creek Farmers Market was a happy host to our traveling recruiting team, adding us to a lineup of vehicles present for June 4th's "Food Truck Friday."

DK Security recruiters and a highly visible Mobile Command Unit, normally used at large festivals as a headquarters for Event Staff security, put us in a unique position to engage potential job applicants in new ways. By the end of the night, our team had met with dozens of interested candidates, interviewed several on the spot, and saw the story picked up by the Battle Creek Enquirer and News Channel 3 WWMT-TV.

The Battle Creek experiment would result in the hiring of several new local security officers in the coming days — an almost surprising success for a brand-new idea. A visit to the Ada Farmers Market the following month, defined by plenty of foot traffic and a wonderful market atmosphere, confirmed the official launch of the 2021 Mobile Career Fair.
Supporting Local
Aside from the hiring successes we saw early on, reserving space at farmers markets and community outings fit our company culture of supporting local. DK Security is headquartered in Kentwood, MI, and we found no shortage of events to reach over the Summer.
"The Mobile Career Fair is our way of not only going to the events where potential job candidates attend, but it's also a great way that DK Security tries to promote local farmers markets and community events that bring communities closer together."
— Johnny Kendall, Director of Marketing & Business Development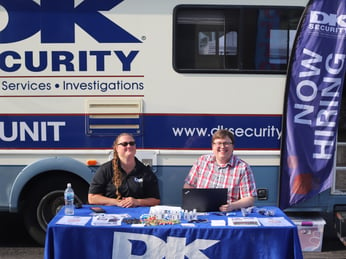 Joining the Kentwood Farmers Market for their Summer Concert Series, DK Security sponsored two market dates in support of free music and local vendors in the City of Kentwood.

For National Farmers Market Week (August 1st-7th), our Mobile Command Unit participated in a vibrant meeting of those looking to connect with their community and celebrate access to local food.
Two weeks later, our sponsorship of Makers & Crafters Day saw over 40 local vendors come together for the biggest market of the season.
Community and Discovery
The Kentwood Farmers Market gave us the opportunity to reintroduce our open positions to an area we know well and simultaneously support the community we reside in. It's not the only way we participated in Kentwood community life, though.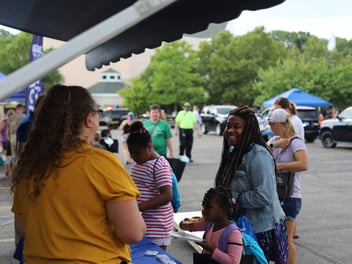 National Night Out is a nationwide event that urges relationship-building between neighbors and law enforcement in a positive atmosphere. On August 3rd, Kentwood neighborhood residents gathered at Kentwood Community Church for the chance to meet and learn from uniformed public service members.
In a night featuring law enforcement vehicles, fire engines, and food trucks, DK Security offered up the Mobile Command Unit for connecting with eventgoers and job candidates.
Riding for Veterans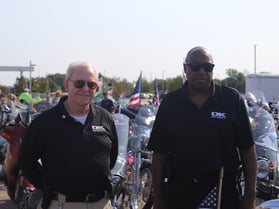 Traveling northward, the Mobile Career Fair found additional ways to incorporate the Mobile Command Unit into community outreach. We were honored to support our local veterans at the 2021 Freedom Cruise, organized annually by the Finish the Mission Veteran Relief Fund.

A free event hosted at Sparta High School this September 11th, the Freedom Cruise brought together over 3,000 people to remember and thank West Michigan veterans with a social gathering, ceremony, and honor ride for car and motorcycle enthusiasts.

The Freedom Cruise turned out to be not only an excellent showcase for our Mobile Command Unit and open positions in the region, but also a special event for a partner of ours and the veteran community we both aim to support.
The Finish Line
Our Mobile Command Unit's journey around West Michigan ended as it began, with the final Mobile Career Fair event of the year taking place at the Battle Creek Farmers Market.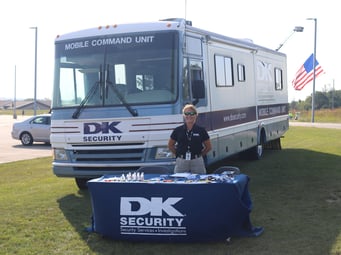 On September 24th, Festival Market Square filled with local food, live music, and pumpkin decorating to mark the season's end. Again, the Mobile Command Unit and our team were right at home among a variety of food trucks and marketgoers throughout the evening.

Ultimately, "The Mobile Career Fair was a successful way to engage job candidates," says Johnny Kendall, Director of Marketing & Business Development. In comparison to the results DK Security has seen at job fairs hosted by our corporate offices, the Mobile Career Fair saw increased successes as a recruiting and marketing initiative. Fierce competition for hourly workers challenged us to stand out from the crowd and meet the public where they were — in their communities.

He adds: "Not only were we able to hire a fair share of employees, but we also had a great time participating and promoting these events." In fact, the opportunity to engage with public community events informed our decisions on where to take the Mobile Career Fair. DK Security has always supported local, and this Summer's outings provided a valuable outlet to do just that.
To learn more about the Mobile Career Fair or to keep up with more DK Security news and events, follow us on social media at the links below!