If anyone knows what it means to stick around for the long haul, it's Joe Budnik. 20 years of always saying "yes" has led our Director of Operations to build an impressive professional resume and find himself central to our company's defining moments. In this Employee Spotlight, Joe discusses those defining moments, finding satisfaction in a job well done, and even having a company phrase named after him.
"I was just always available, for everything."
Originally hired as a K-9 handler in 2001, Joe took on various roles early on by spending as much time as possible at the corporate office and getting to know his coworkers.
"Be there, be around, get to meet people," Joe explains about how he succeeds in new work environments. For one, sharing a cubicle with investigators in his early years led him to work on background and disciplinary investigations. He would also volunteer for any assignment that popped up, for any department. Third shift security work, HR administrative tasks, surveillance … nothing was off the table.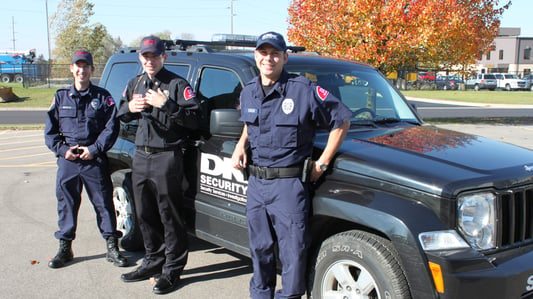 Joe Budnik (right) pictured with coworkers outside of DK headquarters
A 2003 workers strike at a client site provided Joe with his first supervisory opportunity. Asked if he would supervise a night crew of security officers in response to the situation, Joe committed to the role wholeheartedly. On a four-month assignment, Joe invested significant time and energy into managing a large security team and picking up extra shifts when needed.
After a well-deserved vacation, Joe returned to find a few empty workspaces at the corporate office. An opportunity followed. "Hey, do you want to be an operations manager?" Joe recounts the then-VP of Operations asking him. Surprised but up to the challenge, Joe received a list of sites, was introduced to the payroll process, and was on his way to becoming a core part of the DK Security operations team.
Joe credits his success and longevity in large part to "always saying 'yes.'" No matter how daunting the task, he has a desire to learn, improve, and become an asset to any assignment he joins.
"Once you get into a place so long, you can't see yourself anywhere else."
At over 20 years (and counting) with DK, Joe is one of our longest-tenured employees and can't see himself working for any other organization.
Over the years, his impression of co-founders Bob DuHadway and John Kendall was overwhelmingly positive. Describing them as great listeners, communicators, and supervisors, Joe recalls how comfortable they made him feel. "How I was treated … how my wife was treated, that's a big thing."
What else has kept Joe around for so long? Great adventures, plentiful opportunities and company loyalty come to mind. In addition to all the interesting people and places he's experienced, Joe has always felt like he and the company have mutually invested in each other. Being cared for by his employer has been important to Joe and continues to guide his decision to stick around.
"You know, a lot of people go to thankless jobs, but you're acknowledged here for a job well done. Always."
When asked about career-defining moments, Joe starts by distinctly avoiding the idea of "moments." Instead, he describes the long-term leadership of John Kendall (and later, Sindia Narber) as the best influences he's had to date. A hands-on leader, John consistently led Joe in the right personal and professional directions. Now, Joe describes our new CEO Sindia Narber as an advocate and a growth-minded leader as she follows in John's footsteps.
Shifting to reflect on moments in time, Joe primarily recalls the role he played in securing the Kalamazoo River oil spill of July 2010. After another security company was unable to handle the immediate and crucial staffing needs of the project, DK Security stepped in, and Joe helped supervise a contract of 24 thousand weekly security hours.
By project's end, Joe had successfully hired and oriented employees in a Marshall, MI hotel lobby, used GPS coordinates to deploy security officers over vast stretches of riverbanks, and organized efforts with federal agencies over the course of one of the largest inland oil spills in U.S. history.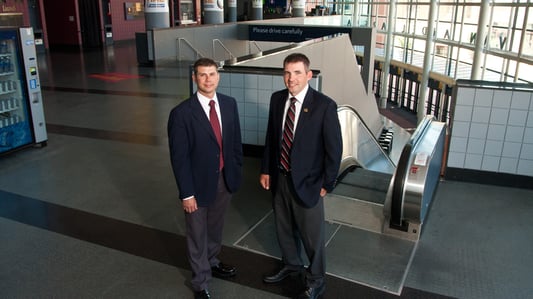 Joe (left) at Van Andel Arena in Grand Rapids, MI
Above all, Joe holds pride in a job well done and having his efforts validated. "There's always a little bit of pride when you go home to know they can sleep better because of what I said or did," he beams.
"The early bird gets the worm, right?"
There's a saying around here: "You've been Budniked." Years ago, DK Security operations managers used to do their own recruiting. Newly hired employees would come in for orientations and Joe would approach them right away with printed schedules, committing new officers to work at his client sites as far as three months in advance. So, other managers would find themselves often running into the response "Oh, Budnik already has me scheduled." You've been Budniked.
These days, being Budniked has evolved and taken on a life of its own. Did Joe drink the last Coke in the fridge? You've been Budniked. Did something happen in Joe's favor and not yours? You've been Budniked. Did Joe beat you to scheduling an employee for work? You've most certainly been Budniked.
"I was just prepared better than you guys," Joe defends.
"There's always something going on. If there's not, we make something going on."
Originally from Albuquerque, Joe married his wife Lisa in Holland, MI. 15 years later, the two of them reside in Zeeland, MI with their son and daughter.
The Budnik family dynamic is an active one. "We rarely stay at home or on a TV or computer or anything at our house," Joe says. Instead, they love the outdoors, travel, and are a sports-driven home.
Specifically, Chicago holds special meaning for the family, with the Bears, Cubs, and White Sox splitting their attention year-round. Additionally, they enjoy taking the train into the old part of town, staying in historical hotels, visiting local zoos, and eating at hole-in-the-wall restaurants.
Back home, Joe makes bucket lists with his kids that hang on the wall and become summer projects.
As for his own list: "I'd like to have a cool car for once in my life," Joe jokes. "A 1979 GMC pick-up square nose." He loves American history and would like to drive from Connecticut through Maine, exploring local history and staying in historical hotels. More entries include meeting Serena Williams and helping his son meet the Mets' Pete Alonso.
"DK has always been here for me, just part of my family."
All in all, Joe reflects fondly on his time with DK Security and the reputation the company has built over the years. Blending legacy with feeling treated as family, he puts DK in a special category of companies that sincerely care about their employees and always have.
Elaborating on that care: "We celebrate every birthday. We celebrate wedding showers. We grieve with everyone … it's every aspect."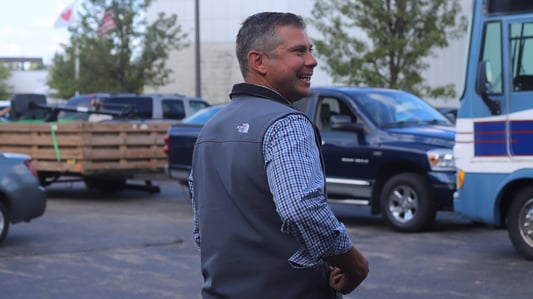 Joe celebrating 20 years with DK Security (2021)
Joe Budnik's own 20th work anniversary was celebrated by DK Security in September 2021. At 46, he doesn't see himself retiring anytime soon or working anywhere but at DK. From handling K-9s to the director's desk, he's been wholly satisfied with a job well done – challenging, different, and rewarding.