In 1999, Nancy Rhodes joined the early operations of DK Security as an Administrative Assistant. This Fall, she was promoted to Vice President of Human Resources, overseeing a new-look HR department that spans the states of Michigan, Ohio, and Indiana.
In this Employee Spotlight, Nancy covers what she's seen over her 22-year tenure with DK Security, what it means to step into an executive role, and her goals for the future of the company.
Career Searching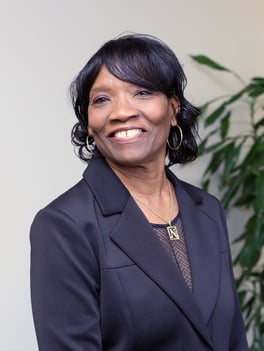 Nancy Rhodes grew up in Muskegon, MI. In the early 1990s, she pursued higher education first at Muskegon Community College, studying business, and found work as a legal secretary at McCroskey Law Firm. While Nancy speaks positively about her time in Muskegon, she eventually needed a break from the small town that it was. So, in 1994, Nancy picked up her life and moved to Grand Rapids.
In the city, Nancy made a transition into Human Resources at Staffing, Inc., assisting with the filing of workers compensation claims and other human resources solutions. On the side, she continued to pursue a higher business education, studying at Cornerstone University.
Nancy eventually joined the administrative team for the City of Grand Rapids but left that position for the same reason she left Staffing, Inc.: she was searching for the right work environment to build the career she wanted, and just hadn't found it yet.
Finding Family
Drawing from her growing professional network, Nancy learned that a new security company in Grand Rapids was looking for a new administrator. So, she put in an application and soon after received a call from DK Security co-founder John Kendall. Nancy met both John Kendall and his business partner Bob DuHadway at a restaurant for an interview and received a job offer by the time she made it home.
"And the rest is history," Nancy recalls.
When asked about what caused her to be sure about working with DK Security, Nancy describes how the co-founders presented themselves as nice, honorable, and religious people, checking off all her personal boxes. "You want to be part of that type of family. At least I did."
Religion plays a large role in Nancy's life. She knew that in her work life, she sought a family atmosphere with morals and values that mirrored her own, and that's what DK Security seemed to offer. Nancy joined that family on September 13th, 1999, five years into a career away from her hometown.
The Early Years
Nancy's first two years with DK Security were spent at a control center for one of the company's largest and longest-standing clients. After traveling to Tennessee for operator training, she became instrumental in managing the control center in its original form.
To meet the co-founders' desires for greater parking accessibility concerning clients and job applicants, DK Security's headquarters moved from downtown Grand Rapids to its current Kentwood location in 2002. There, Nancy received a larger opportunity: an Executive Assistant position and exposure to the Human Resources department of a rapidly growing enterprise.
From there, Nancy rose in the company to Background Screening & HonorLine Manager, Human Resources Manager, and most recently, Director of Human Resources.
The Longest Time
"You guys are going to have to push me out in a wheelchair."
In 22 years with DK Security, Nancy has seen it all. People come and go, and the industry is ever-changing. Even with the changes around her, though, Nancy proudly says that "what the company represents and what the company stands for is there… it's going to always be there."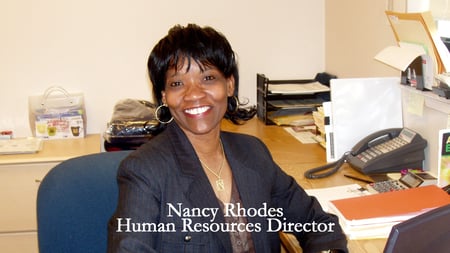 Fittingly, Billy Joel's "The Longest Time" played softly in the background on a portable radio as we spoke to Nancy. Her office is a warm and inviting one, always alive with the sounds of classic radio hits. Some things never change, and that's just how she likes it.
As for company culture, she describes it as diverse, but hard to put into words — everyone gets along and there are seldom interpersonal issues. According to Nancy, it's a culture that's open to ideas. She praises our new CEO, Sindia, as a positive force of change that builds on the legacy of the co-founders.
Nancy also recounts what values she learned from the late John Kendall and Bob DuHadway. Mainly, she holds their Christian ethics close to her heart as well as their generosity and kindness. That leadership remains present in the company mission statement to this day.
A New Look for HR
"I just love it here. I really do. I just can't see myself anywhere else."
With Nancy's recent promotion to Vice President of Human Resources comes another substantial change: DK Security has a full, new-look HR department that features HR Managers for different regions of business as well as other personnel shifts.
Nancy speaks highly of her entire team, expressing her confidence in the future of the department. When asked about her state of mind in the new VP role, she doesn't seem shaken. Two decades with the company have prepared her for higher leadership; she's used to the work and truly enjoys it.
"It's the job duties, but seriously, it's the people." Nancy enjoys the responsibilities of her position, but it's the people at DK Security that make it a special place to work.
She's excited about taking new directions, too. Among her planned initiatives for HR at DK Security includes the streamlining of recruiting and onboarding tasks for new employees. Digital resources are being adopted by the department to eliminate paperwork and expedite several processes.
It's an endeavor, but Nancy's confidence in her team is unwavering. "We have the people to work, who are willing to work. That's key," she says.
On Diversity, Equity, and Inclusion
As a female-owned and female-led company, DK Security prides itself on its diverse management team in an industry that often lacks such characteristics. Nancy took the time to share her thoughts on her experience as a woman, and a woman of color, in management for the security industry.
"I can say that my experience, especially with being in leadership here at DK, has been phenomenal. And the people that I work with, that helps a lot too."
Despite her positive experience, Nancy emphasizes her desire not to be treated any differently for who she is. When people approach her with expectations on how to present herself or act a certain way, she has a strong message: "You do what you're supposed to do, regardless of your skin color."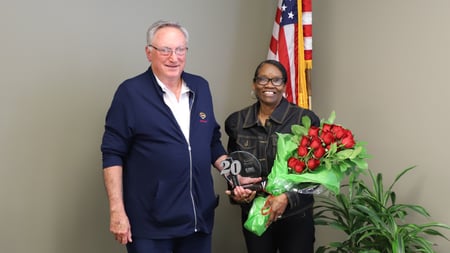 In 1999, Nancy was the first black woman on DK Security's emerging administrative team. With time, though, she saw her environment become more and more diverse around her, recently celebrating 20 years with the company (pictured above with co-founder John Kendall). Along the way, she became one of the founding members of a Diversity, Equity & Inclusion (DEI) group within the company.
The DEI group was created to ideate on inclusive spaces for a diverse workforce, bringing people together rather than pulling them apart. The COVID-19 pandemic has paused the group's ability to host in-person events, but Nancy hopes to return to the concept soon.
On the Side
In her free time, Nancy pursues any of her several hobbies. On TV, she tunes into HGTV for house decorating ideas or the Game Show Network. She's currently reading Becoming by Michelle Obama, and additionally enjoys The Purpose Driven Life by Rick Warren.
Nancy has also been described as the best-dressed in the corporate office over the years. Her secret? Bargain shopping. Couponing paired with salesperson connections made over the years have allowed Nancy to evolve into a vigilant and efficient shopper of the highest order, and she loves it.
Looking Forward
"I am so honored to be put in this position. To go from Administrative Assistant with the company to becoming a VP of HR is so humbling. And I am so appreciative… it's just heartwarming."
22 years after accepting the position of Administrative Assistant at DK Security, Nancy Rhodes now sits in an executive role. As Vice President of Human Resources, she oversees all HR functions for a company of over two thousand employees.
And yet, she's humble about it. Nancy goes on to describe how the honor is so great that she often feels as if she doesn't deserve it, but only good things are said about her. She has been a respected team member throughout her tenure, by co-workers and the late co-founders alike.
Now, Nancy looks to the future of the department as a well-trusted professional with decades of experience in the industry. DK Security holds a high confidence in her ability to affect positive change for an evolving HR department and the company as a whole. We're extremely thankful for Nancy's influence on the company and look forward to what will come.