Artificial intelligence is playing an increasingly important role in the evolution of the security industry, with new and effective tools transforming the way organizations secure their people and assets. DK Security is excited to join this effort by launching a brand-new robotics division that will continuously improve the security of our clients and communities. As a dealer for Robotic Assistance Devices (RAD), DK now adds cutting-edge AI security robotic solutions to our existing services.
A New Partnership
RAD is a Detroit-based innovator in AI technology that delivers a suite of robotic security devices through an integration of human and AI-driven guarding. Built to solve security challenges and evolve current processes, RAD completes tasks autonomously, supports human productivity, and operates continuously.
As a regional dealer serving Michigan, Indiana, and Ohio, DK Security will now link local organizations with cutting-edge robotic security solutions. We're eager to introduce you to the RAD lineup and explain how each device performs a unique function for creating safer workplaces and communities.
Meet the team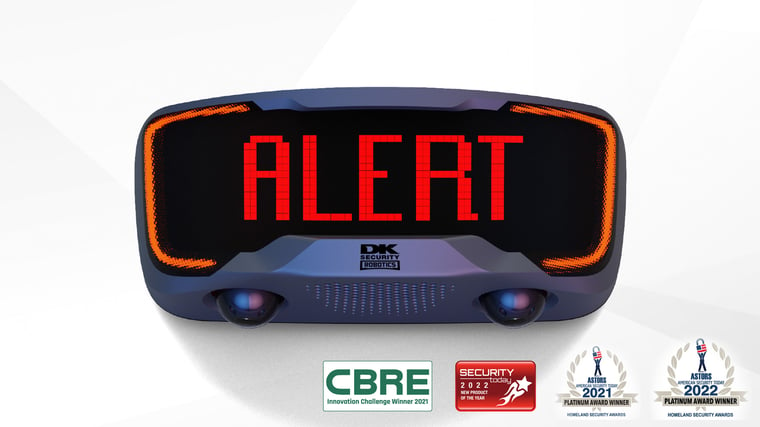 At the core of the entire RAD technological system is what we call 'autonomous response' – the AI-powered device's programmed or learned reaction to events and conditions. While traditional security cameras only record video for later review, RAD can detect and respond to trespassing, loitering, and other concerns in real-time.
ROSA is a completely self-contained and autonomous response device that performs industry-leading event detection and communication. It runs 24/7, provides a 180° field of view, and deters criminal activity through customizable audio and visual alerts. Furthermore, ROSA communicates cellularly with your staff and can even make contact with law enforcement agencies.
When even wider vision is preferred, two ROSAs may combine to form ROSA-P – a unit that can be mounted to existing light poles for up to 360° vision. Drawing power from your organization's lighting systems, ROSA-P provides continuous open-area surveillance when no mountable buildings are available.
Similarly, ROSA-P expands the deployment opportunities of ROSA. ROSA-P and its companion Power Enclosure can be mounted to existing light poles for up to a 360° field of view, providing continuous open-area surveillance from a sturdy structure.
It's important to note that ROSA is not "just another camera." Here's how a client of RAD recently used ROSA devices to solve ongoing concerns with vandalism, trespassing, and theft at their organization.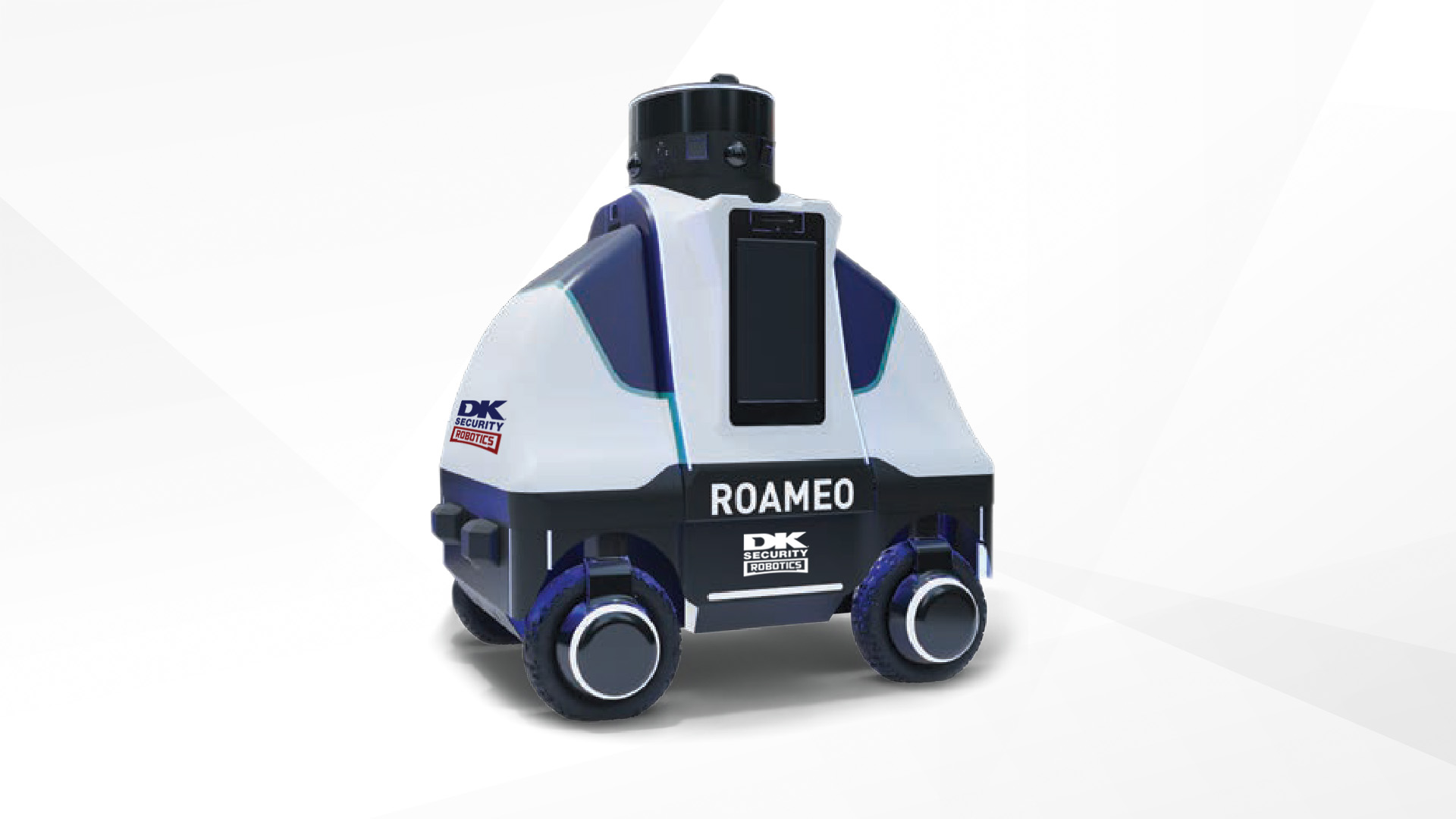 Standing at nearly seven feet tall and weighing over 700lbs, ROAMEO takes AI analytics, video surveillance, and interactive communication on the go like no other security robot on the market. 360° cameras and real-time analytics allow ROAMEO to plan patrol routes, avoid obstacles (people, trees, power structures, etc.), and apply AI learning continuously.
Not only does ROAMEO patrol, but it also interacts with people along its route. Constant surveillance from a 78" high camera system allows ROAMEO to provide calls for help, panic buttons, security alerts, and fully customizable concierge services (e.g. local information, weather, directions, advertising).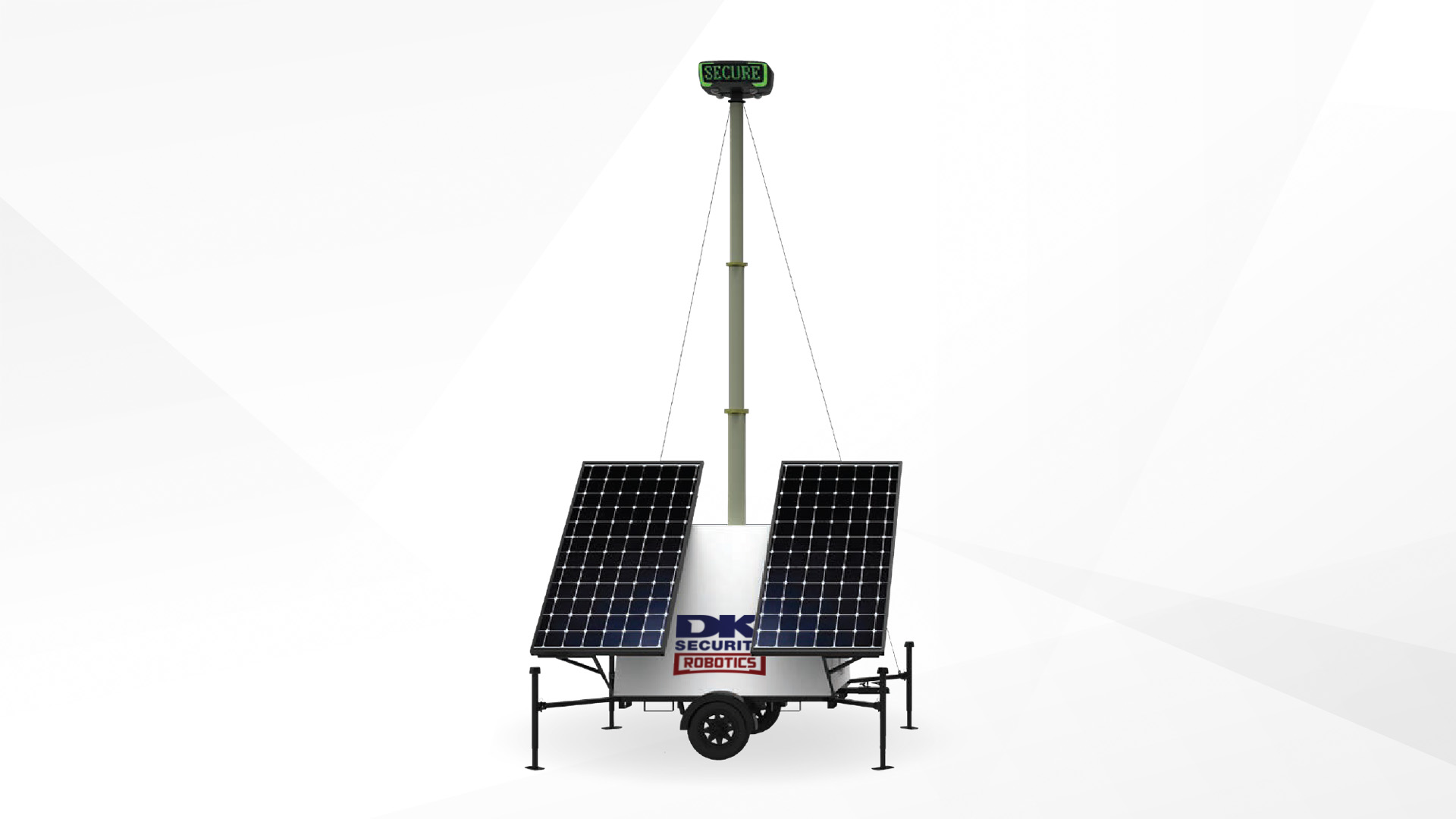 Put simply, RIO allows you to take ROSA on the go. Sitting atop the RIO Solar Tower, ROSA can be deployed anywhere, and will surveil large areas where no buildings are available to mount the device on. RIO expands ROSA's field of view to 360° and provides continuous open-area surveillance from a tall, sturdy structure.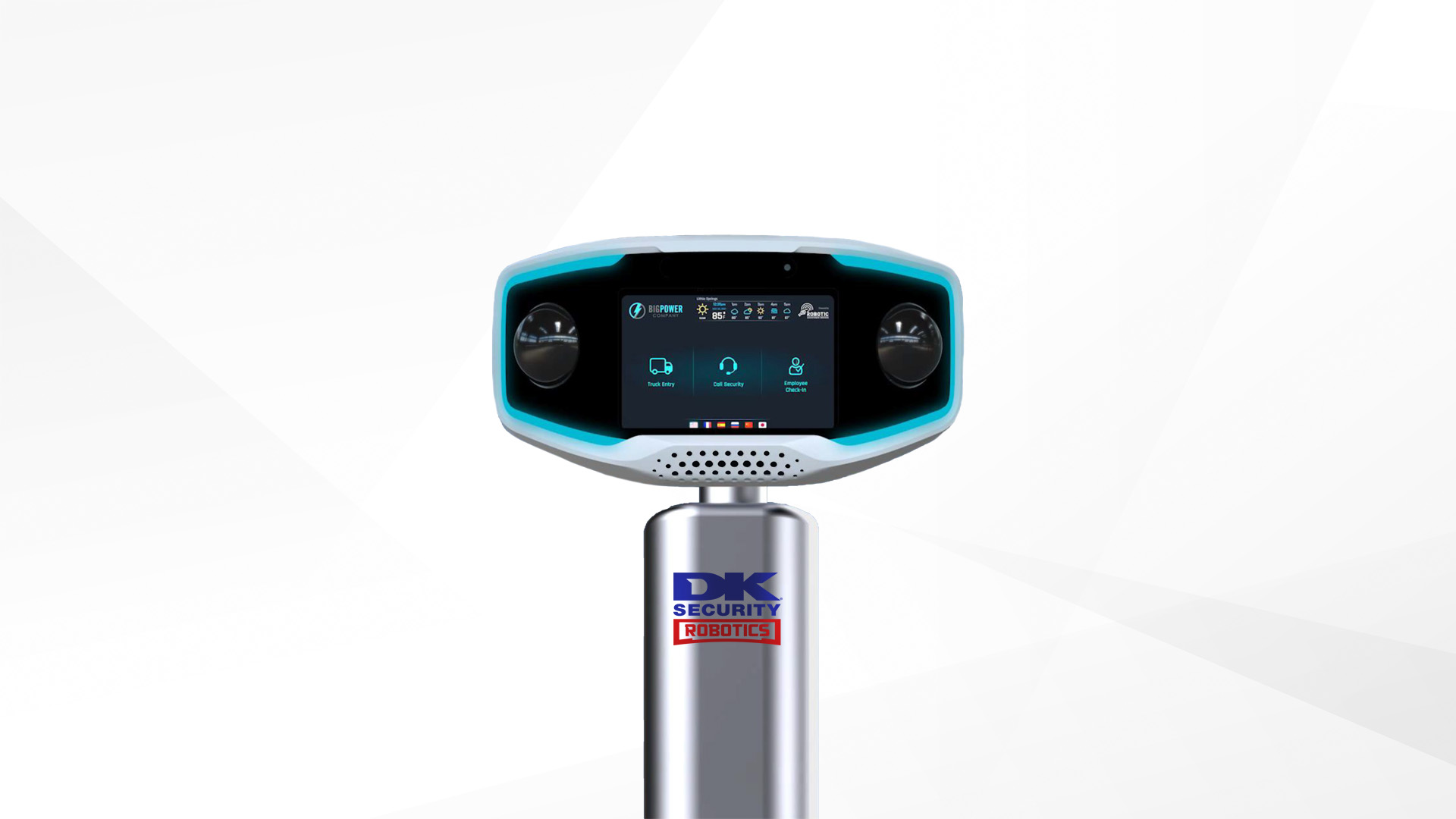 AVA is a mountable robotic unit capable of advanced access control over gates and other controlled points of entry. Using artificial intelligence and true 180° vision, AVA detects and interacts with vehicles upon entry and exit of your facility's gated areas.
Gate guarding technology with AVA comes standard with a variety of access verification options, from custom PIN numbers to bar code and QR code recognition. Human interaction via camera is also an option; AVA's audio and video tools connect drivers with local or remote monitoring staff when face-to-face communication is preferred.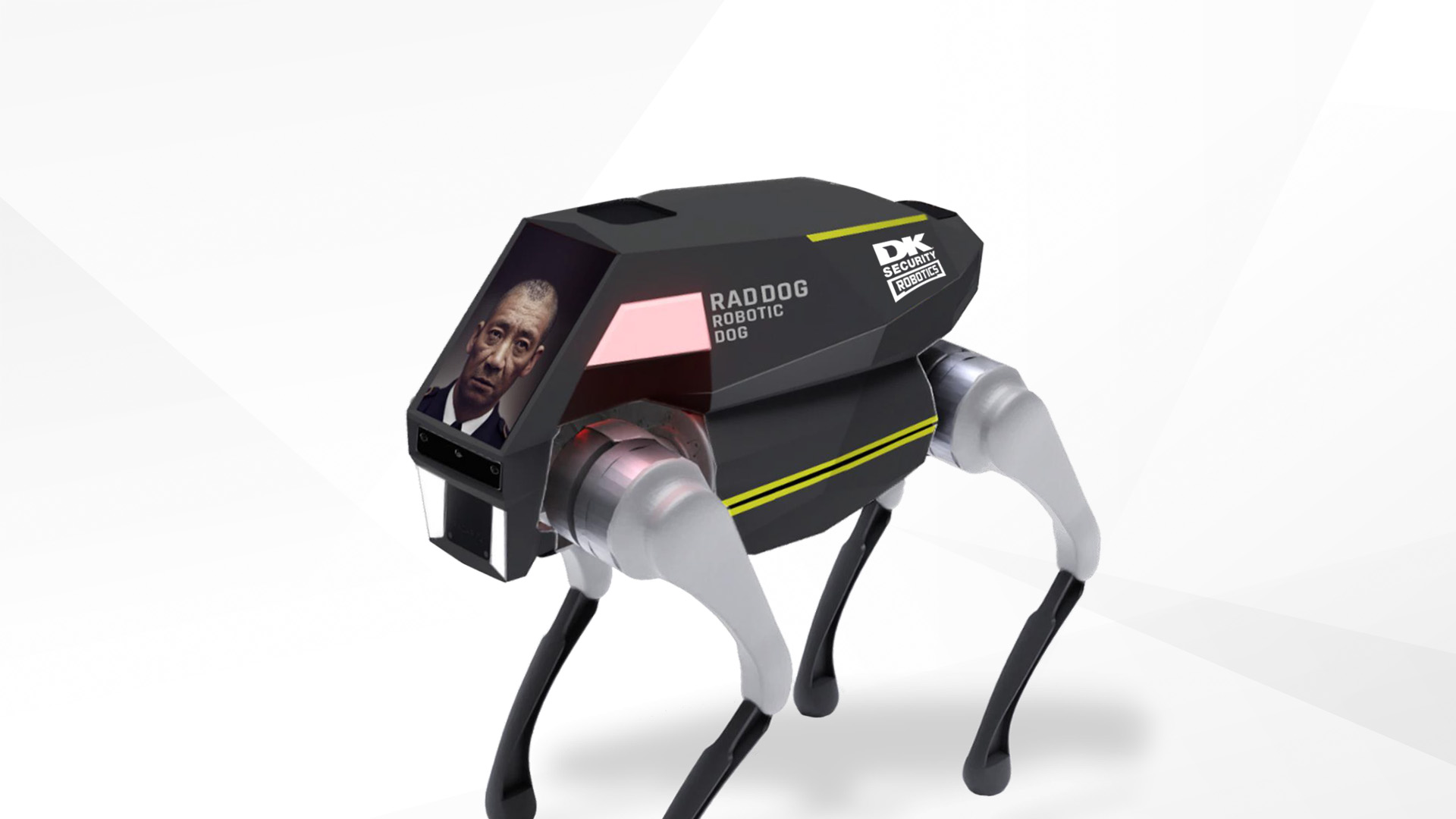 Coming soon to the RAD lineup is RADDOG, a robotic dog built specifically to support RAD stationary devices with AI-based patrolling technology. At launch, RADDOG will be an unmistakable security presence that deters trespassing, covers tough terrain, and patrols parking lots and other large properties. Stay tuned!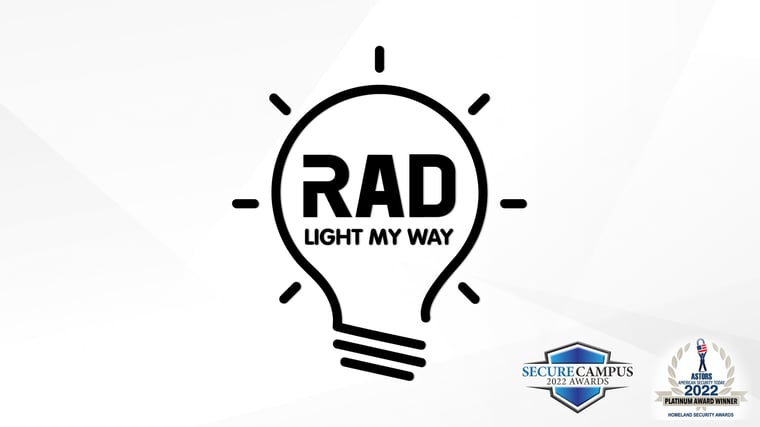 It's common for employees to fear walking to their car alone in the dark. 63% of women say it makes them feel unsafe – more than almost any other daily activity. RAD Light My Way offers your organization a way to enhance nighttime security beyond light posts and security cameras.
The solution is put directly in the hands of your employees, tenants, and visitors: A mobile app coordinates with live remote monitoring to virtually escort individuals to and from their vehicles. Lights brighten, LED messages scroll across RAD units, and the mobile user can even communicate live with a remote security officer who has access to all available cameras.
Using the AI that empowers RAD to strengthen organizational security across all device types, Light My Way takes safety to the individual level and exemplifies the customizability RAD offers.
Choosing RAD
Affordability
AI is becoming an increasingly affordable and effective security option that augments traditional guard services, no matter the size of your organization's security budget. Robotic devices enhance the capabilities of human staff by automating tasks and operating continuously, allowing security officers to focus their expertise on customer service and more-complex situations.
Whether it's a single ROSA monitoring a parking lot or multiple RAD devices coordinating with guards to protect a larger organization, DK Security is prepared to help find you the best fit for AI-based robotics within your security budget.
Detection
RAD surveillance provides significant improvements over traditional security cameras through AI-based identification and response processes. ROSA's 180° field of view is fitted with state-of-the-art human, firearm, vehicle, and license plate detection capabilities, equipping your organization to identify and respond to trespassing, loitering, and even weaponed individuals – completely autonomously.
Deterrence
While security cameras record video footage for later review, RAD has evolved the concept to provide a real-time incident response. A system of AI-integrated digital cameras, wide LED screens, and two-way audio expands RAD units to include custom visual alerts, audio messages, and live communication.
At the same time, RAD may be programmed for customer service with the same technology. During business hours, welcome messages and marketing displays fit naturally alongside reminders to visitors that your property is under surveillance. At nighttime, RAD autonomous response can focus its alerts and messages on dissolving potential security threats.
Efficiency
We value the benefits of cutting-edge AI technology in addition to the expertise of traditional guards. RAD supports existing staff by automating surveillance and threat detection 24/7, which allows your security personnel to focus their time on providing customer service and investigating incidents. We're fully invested in the security application of AI; our partnership with RAD both expands our range of security solutions and adds value to those already in place.
—
DK Security is excited to now offer AI-based security robotic solutions that complement the traditional uniformed security guard services our company was built on. If you're interested in learning more about AI and how it can improve the security of your organization, we would love to hear from you.