Have you ever experienced a lion dance? Until recently, most of us at DK Security in Grand Rapids had not. However, one of our corporate recruiters, a Chinese-Vietnamese first-generation American, helped change that. Thanks to Thao Tran and her friends at Lotus Boyz GR, we were able to encounter this unique tradition and be reminded of the many distinct cultures represented across the company.
---
What is lion dancing?
Lion dancing is a traditional Chinese performance art intended to scare away evil spirits and bring good luck to its audience. Unlike dragon dancing – another art form lion dancing is often mistaken for, where multiple performers hoist a giant puppet into the air with poles – a lion is operated by two individual dancers who perform together inside of a costume.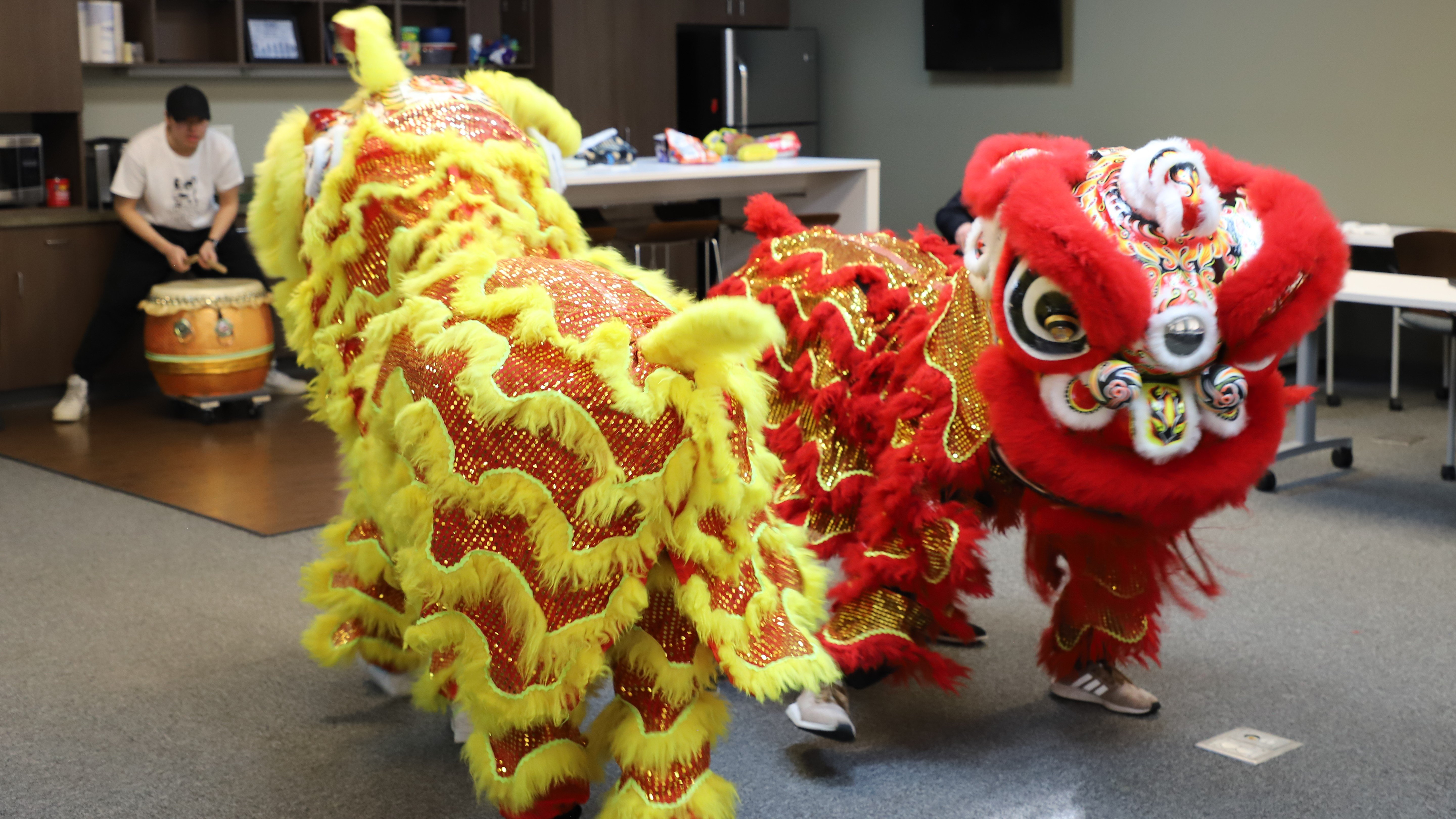 While there are hundreds of myths surrounding the origin of the dance, Thao's favorite involves a lion demon that, after being tamed by a monk, shifted to protect a village rather than terrorize it.
"Every holiday we do a lion dance to scare away the bad spirits and bad luck, and that way make room for good luck and good fortune to come into our lives," Thao explains. The lion garb is traditionally brought out for two main holidays: the Lunar New Year (January 22, 2023) and the Mid-Autumn/Harvest Moon Festival (geared towards children).
Dancers are not limited to these two celebrations, however. Thao and the group Lotus Boyz GR exercise their skills and passion year-round.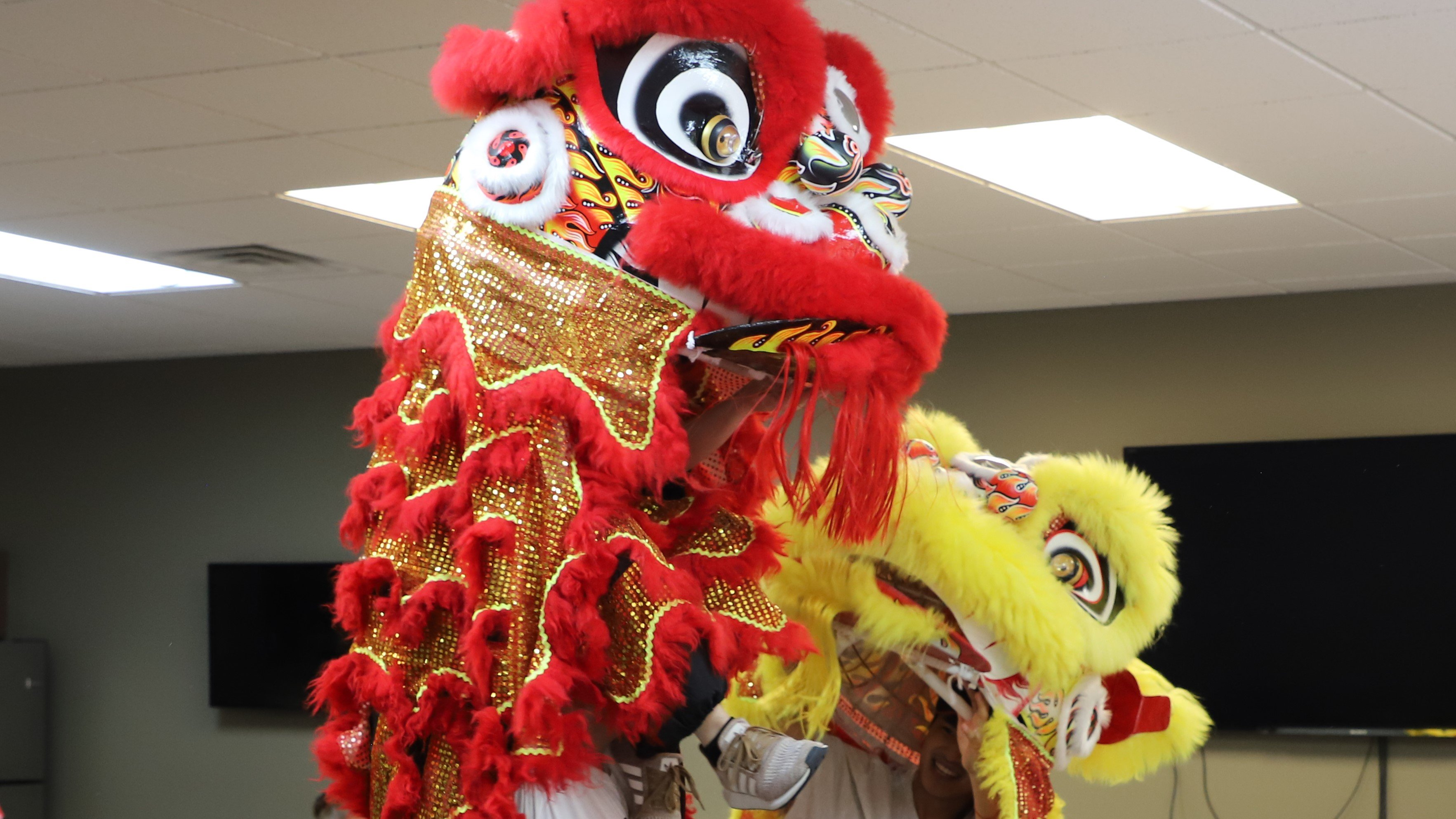 Lotus Boyz GR
Originating in Belmont, MI, the Lotus Boyz troupe comprises three pairs of dancers that have been working together since they were young. "They've spent eight-plus years training together," Thao specifies. About half of the team attends Michigan State University and regularly commutes from campus to perform in West Michigan.
Thao eventually connected with the group to assist with one of their main challenges: Funding. Through her connections at the Grand Rapids Asian Pacific Foundation, she was able to negotiate performance contracts for the group that earned them enough cash for gas and food. With Thao's help, long-term sustainability started to seem more viable.
When they're not training for festival appearances, Lotus Boyz entertains a wide variety of audiences. They book educational school assemblies, weddings, social gatherings, and are even in negotiations to appear at a sizeable Grand Rapids event venue this summer.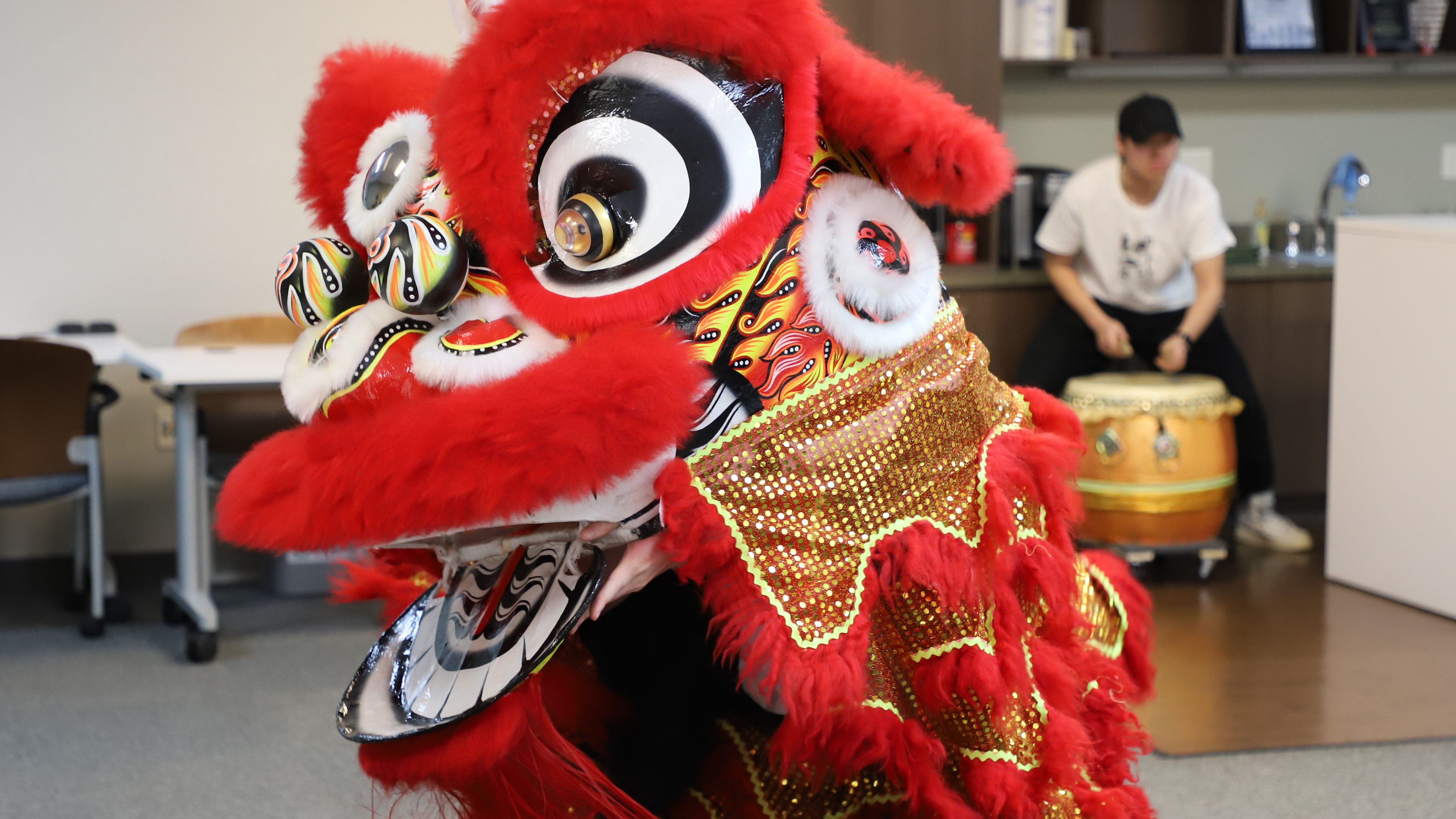 "It's sporadic, but we're definitely getting our name out there," says Thao on event frequency. "Lotus Boyz is the predominant group that does the most showings [in West Michigan]."
Our encounter
Joining the DK Security recruiting team in November 2022, Thao has quickly brought great energy and thoughtfulness to our Grand Rapids headquarters. Recently, she distributed lai see ("lucky money") to her coworkers as a Lunar New Year gesture, which sparked the idea of inviting Lotus Boyz to perform in-house as a cultural event. Schedules aligned, and the show was on.
Four lion dancers traveled to the corporate office along with their drummer for an eight-minute performance in front of DK personnel and their families. Altering the dance to perform indoors, the group impressively still performed lifts and other stunts that are easier to complete at outdoor venues.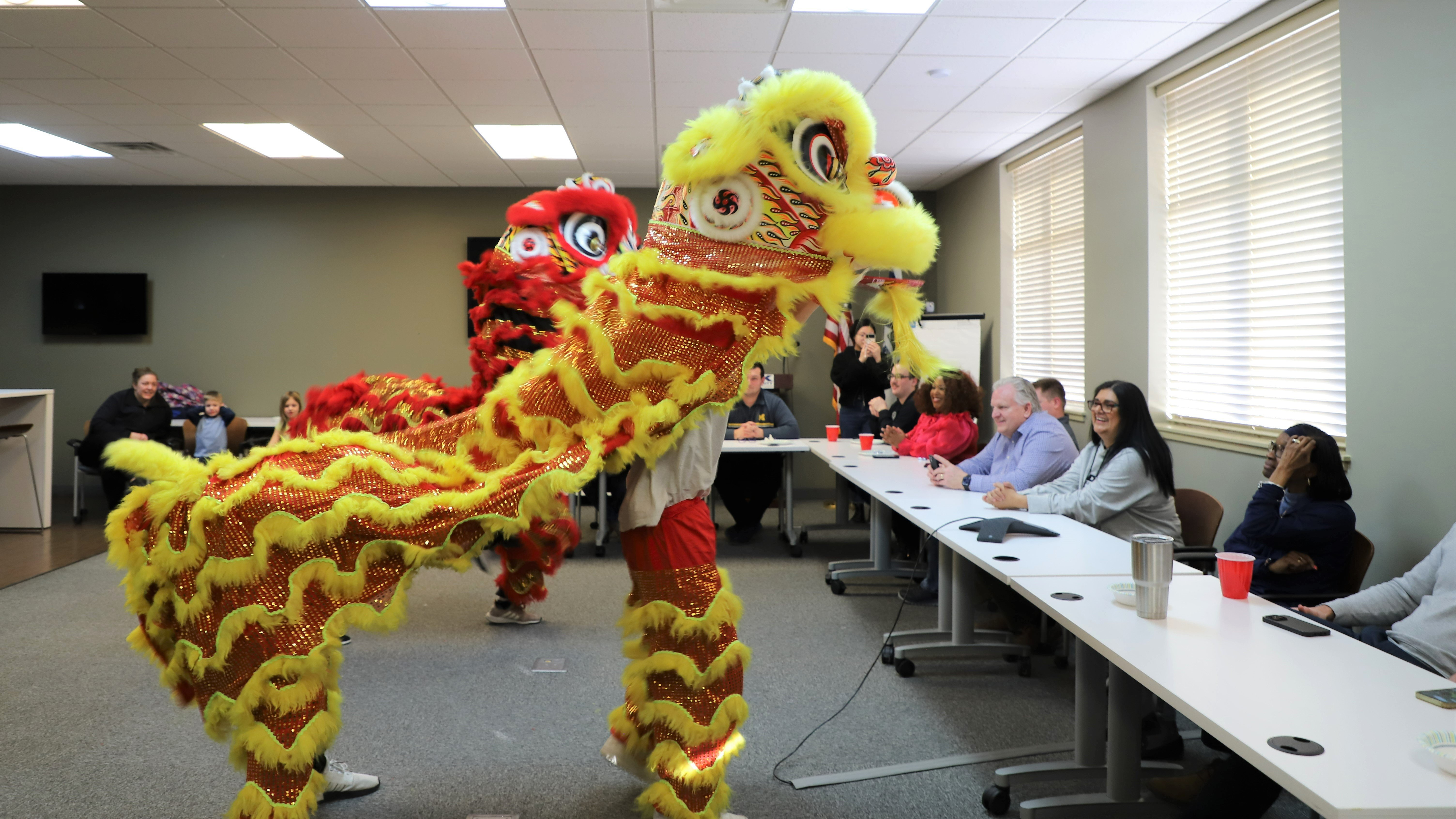 All in all, the lion dance was admirable, humorous, and well-received by everyone who attended. It exemplified one of the many distinct cultures represented across the company uniquely and memorably. We're grateful to Thao and Lotus Boyz GR for sharing their art with us.
Sharing the culture
Thao left behind her involvement with the Asian Pacific Foundation in 2021 in part to spend more time working with Lotus Boyz. "Most of the Asian community already knows about lion dancing," she adds.
What interests Thao more now is spreading the culture to other communities in the Grand Rapids area. Her current project is with the Grand Rapids Food Truck Association, an organization that dedicates its time to promoting and educating on its own culture. The goal is to partner with this organization for greater exposure and awareness of lion dancing in predominantly non-Asian communities.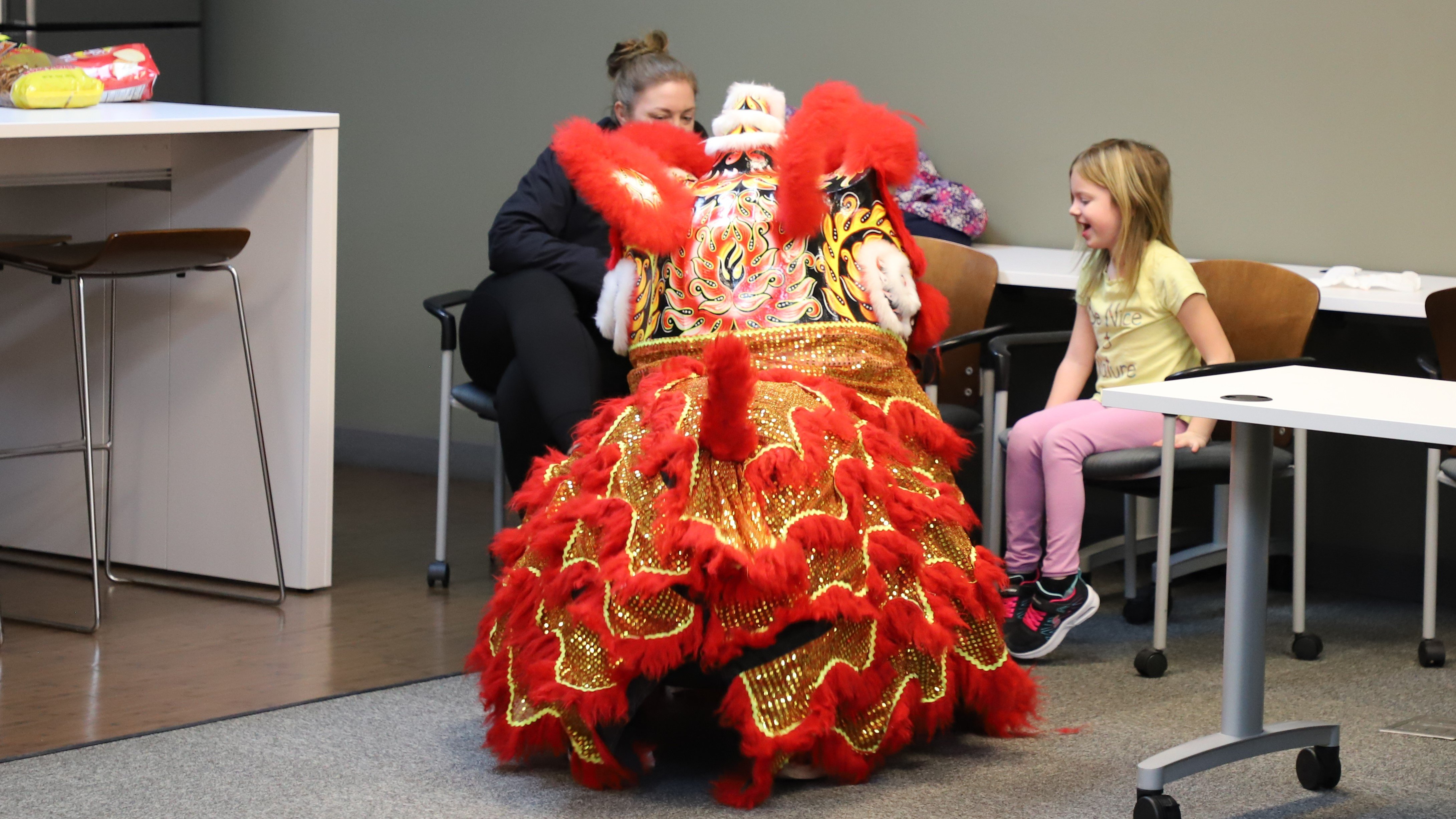 Expanding the group itself is also on the mind. Lotus Boyz would love to find a permanent cymbals player to complement the drumbeat, as well as someone to play a monk. In addition to comic relief and crowd control, a monk performer would act as an extra set of eyes for the lions during tricky stunts.
Lotus Boyz is always adding to its skill set to keep things fresh and build even more impressive routines. In the future, you can expect to see the troupe learn to run up poles with platforms on them – a Chinese-born Kung Fu technique – as a new stunt for their repertoire.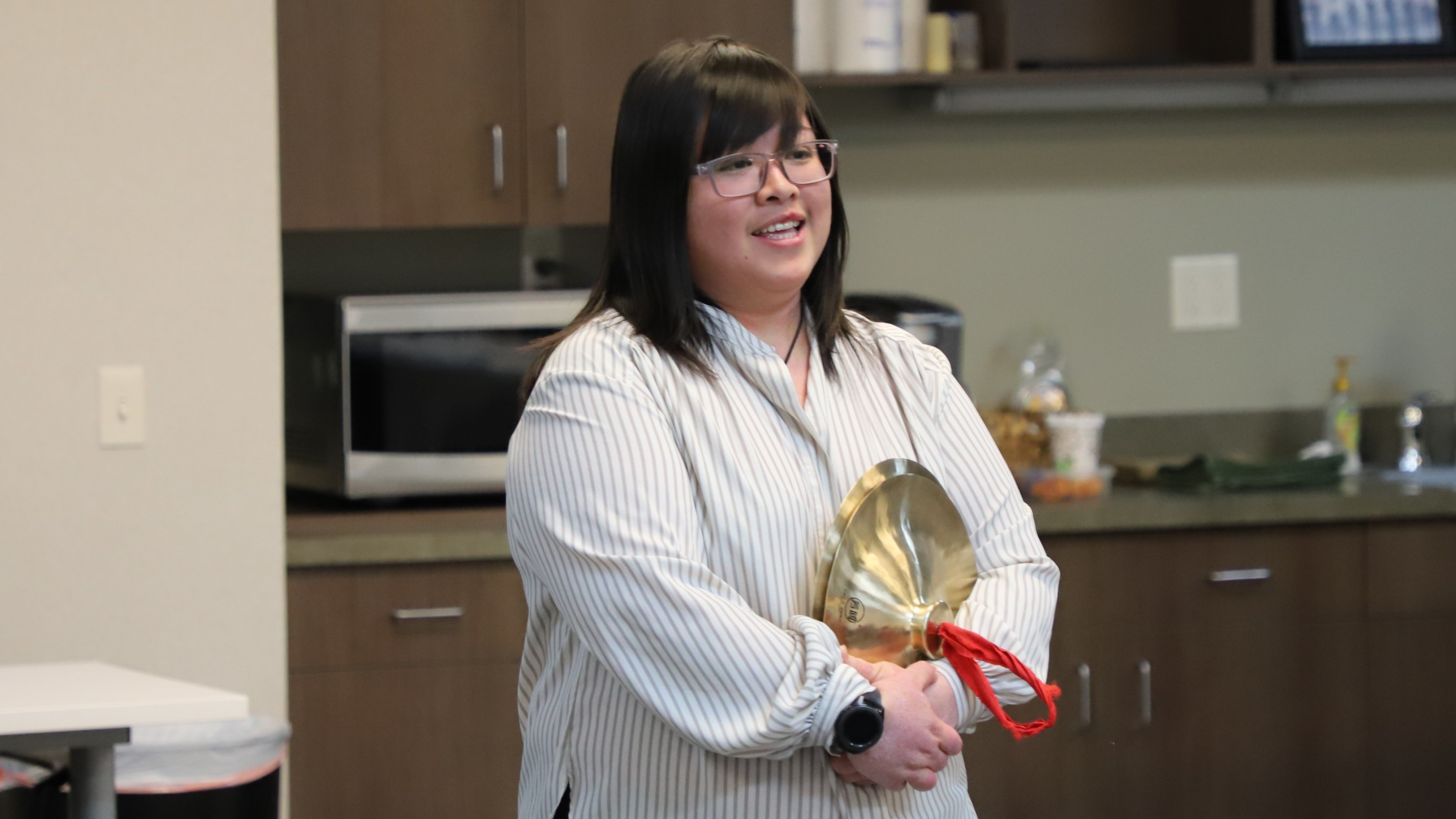 Special thanks to Thao Tran (pictured above) and Lotus Boyz GR for visiting the DK Security Grand Rapids headquarters and providing a unique and memorable lion dance performance for us.
If you're interested in hosting a cultural experience at your next gathering or event, we encourage you to reach out to Lotus Boyz GR by email at lotusboyzgr@gmail.com or on Facebook/Instagram @lotusboyzgr.